Welcome to Heichal Michal!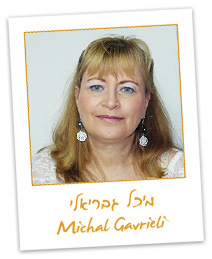 My Judaic art works are inspired by Jewish tradition with adaptations to modern, contemporary, art styles. Each and every one of my hand made art-works is unique and comprises bits of colorful silk fabric. Items combine the artistic inspirations and desires of the costumers together with my artistic abilities and experience. Each item, being Talit,, Parochet , Chuppa or other Judaic art works, are individually produced with an affiliation to the rich Jewish cultural tradition and is designed so as to harmoniously integrate to the surrounding where it will be of use.
The craftsmanship with silk combines the two true loves of my life: the love for Judaism and its rich tradition and the love for silk fabric with its pure texture, colors and softness as raw material. Having been raised in the landscape of Emek-Izrael I absorbed in my youth the bounty of beauty and colorfulness of the land that is presently manifested in my art works with silk. My academic studies in Judaism deepened my understanding and knowledge from which I obtain my inspiration. The intrinsic nature of the art-work items I produce enables the maintenance of their basic traditional design and structure while bestowing original, exciting and unique artistic feature to each of the created items.